Les qualifications US (côte Ouest) pour le Tougeki viennent de s'achever. C'est la Team No SBO 4 U composée de Mr. SNK (E.Honda) et Brokentier.Latif (C.Viper) qui a remporté le tournoi, empochant ainsi le précieux pass pour participer au Tougeki ! La prochaine qualification (East Coast) aura lieu le 6 Août.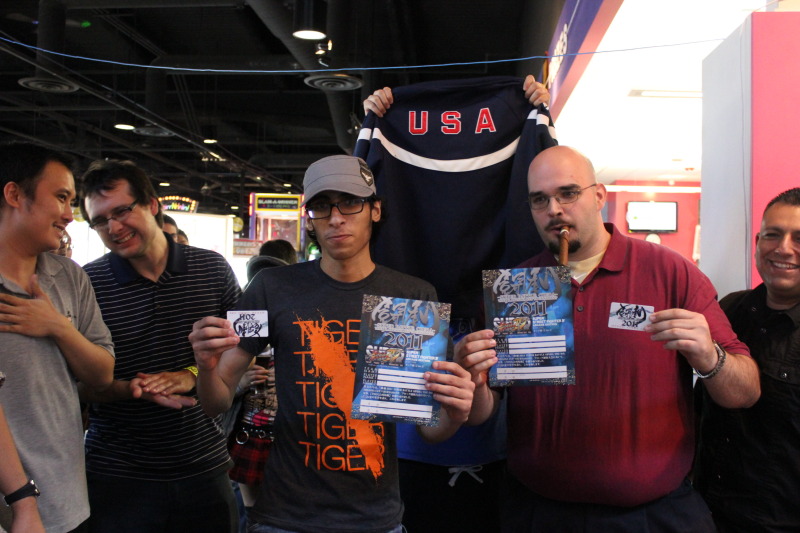 Résultats
Team No SBO 4 U: Brokentier.Latif (C.Viper) & Mr. SNK (E.Honda)
Team coL.Cc: coL.Cc.Mike Ross (E.Honda) & coL.Cc.Filipino Champ (Dhalsim)
Team FeiHawk: Combojack (Fei Long) & Hungbee (T.Hawk)
Résultats détaillés
1: No SBO 4 You (MrSnK Latif)
2: coL.cc1 (Fchamp M Ross)
3: Fei Hawk (Hung ComboJack)
4: Long Hair (Rom MrNaps)
5: Team EG (Floe Ricky)
5: Bonjwa (Ken I VicDaSlick)
7: Team Gameuppp (Gameuppp SSF4_fans)
7: Mike Ross is a Fraud (Wong Valle)
9: Juseyo (ChrisKing Ilya)
9: Sex Break (Joon CommanderJesse)
9: Out of Retirement (Keno Kai)
9: 4th Dimension (Cynistar XsK_Samurai)
13: Olympic Tower Divers (MikeChow Xsonic)
13: Max Out (Cupcake Justin)
13: Dreamlab Gaming (Marn ClakeyD)
13: Long live Rufus (Vicious Chris)
17: Rape Party (NerdJosh Nima)
17: 88 The Movie (Gabriel Benji)
17: Coke and Orange Sweatshirts (Myk Rickstah)
17: HORI (AndyOcr Warahk)
17: coL.cc Purple (Combofiend Gootecks)
17: Bone Storm (Delusion Gnarlblast)
17: Killer Tofu (Choisauce Blaqskills)
17: Hadoken! (Jorge BlockbusterJon)
25: Punishment (BK Assassins WeaponX)
25: LSB (LSB Ralph)
25: QT (DChong QT Matashio QT)
http://shoryuken.com/forum/index.php?threads/sbo-ssf4-ae-wc-qualifier-x-level-up-at-round-1-industry-ca-july-16-2011.134018/page-2#post-5584181
Vidéos
Je mettrai l'article à jour lorsque les vidéos seront disponibles sur Youtube, en attendant voici les replays Justin TV.

Watch live video from Level|Up Live on Justin.tv
Photos
(…)