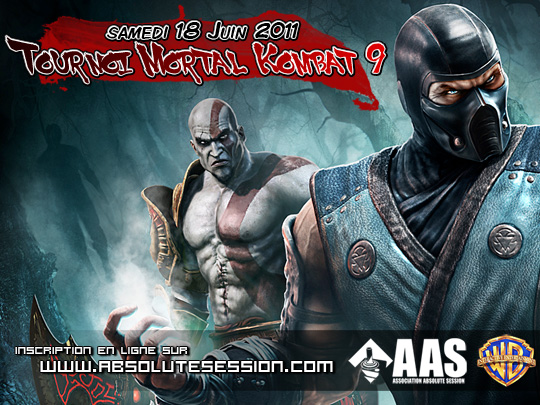 L'Association Absolute Session organise ce Samedi 18 Juin un tournoi Mortal Kombat 9. Ce tournoi est ouvert au public avec une participation aux frais de 5€ seulement. Les membres d'Absolute Session bénéficient d'un tarif de 2€. Rendez-vous à partir de 13h jusque 19h.

Le tournoi aura lieu à Roubaix, Boulevard de la République.

Transport en commun : Prendre le métro ligne 2, direction CH Dron et s'arrêter à Alsace.

En voiture : Depuis Lille, prendre la voie rapide E17 direction Roubaix/Tourcoing/Wasquehal, sortie numéro 7 Roubaix/Tourcoing Centre. Continuer sur la D656 jusque la sortie Centre Mercure.

L'adresse exacte sera confirmée aux participants.

Le tournoi se déroulera sur Playstation 3 en double élimination.

Paramètres par défaut : 2 rounds gagnants, Time 90

Random Stage

Code Joueur non autorisé

First to 2, finale First to 3

Côté 1P ou 2P au choix. Sinon on tire à pile ou face.

La pause en plein match entraine automatiquement une défaite sauf si les joueurs se sont mis d'accord.

Une édition Kollector sur Playstation 3

Une carte PSN d'une valeur de 20€

Les 3 premiers se verront remettrent : un tshirt Finish Him, un porte-clé jeton, une steelcase exclusive, un code DLC pour le costume Ermac Klassic, un code DLC pour le costume Kitana Klassic, un code DLC pour un avatar Scorpion, un code DLC pour un thème dynamique Villains Theme

Vous devez amener vos propres manettes/sticks

Les configs sont autorisés

Aucun adaptateur X360>PS3 n'est fourni, pensez à prendre le votre

Nombre de participants maximum : 16

Le règlement se fait sur place et confirme votre participation au tournoi

Vous devez posséder un compte Absolute Session pour votre inscription sur notre formulaire.