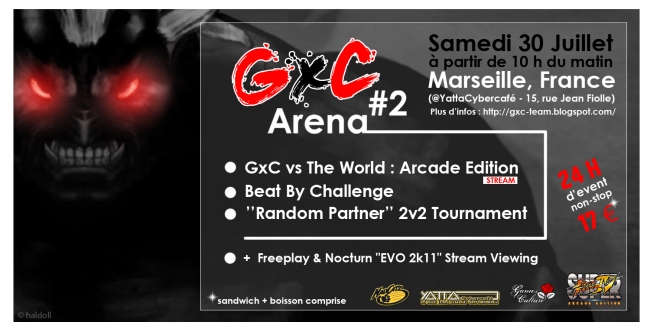 A la fin du mois de juillet la team GxC organise à Marseille un évènement marathon de 24 heures non stop, 100% dose sur Super Street Fighter 4 Arcade Edition. Au programme un tournoi 2vs2 et des matchs d'exhibtions ! Plus de détails sur leur site ou dans l'annonce officielle ici présente.
http://gxc-team.blogspot.com/2011/07/gxc-arena-2-ca-part-de-la.html

– GxC VS The World : Arcade Edition !

Venez vous mesurer à la Team GxC dans un défi à élimination directe ! Nos valeureux membres tacheront de se défaire de tout leurs adversaires !

Le capitaine de la team TheWorld ne sera autre que le fameux aAa.LordDVD ! Doskoi au programme !

Enfin, cet event sera streamé ! Pour les personnes qui ne pourront malheureusement pas se joindre à la bataille, vous pourrez suivre le déroulement de cet event via une retransmission en direct !

– Beat By Challenge !

Tout au long de la journée, deux postes seront dédiés au Beat By Challenge ! Le principe est simple. On s'assoit et on essaye de rester le plus longtemps possible devant l'écran ! Le tenant du record sera mis à jour régulièrement !

– « Random Partner » 2v2 Tournament !

Après le défi GxC VS the World, aura lieu un tournoi en team de 2, dans lequel les teams seront composées aléatoirement ! Tout le monde a sa chance, tentez le coup !

– EVO2K11 StreamView !

Aucours de la nuit, aura lieu le plus gros tournoi des USA, et assurément un des plus gros au monde ! L'édition 2011 de l'EVO !
Supportons donc la délégation française du mieux que nous pouvons !

PS : Tout matériel (console ou écran), que vous seriez susceptible de ramener est le bienvenue ! Plus on a de poste, plus on joue !

Pour toute question ou autre commentaire, dirigez vous vers la page officielle de l'événement sur Facebook, elle a elle aussi été mise à jour avec les derniers changements : Cliquez ici !

Entrez dans l'arène !

Tarif : 17€, sandwich + boisson comprise.
Lieu : Marseille, Yatta Cybercafé @ 15, rue Jean Fiolle.
Horaires : Début : Samedi 30, 10h – Fin : Dimanche 31, 10h.
Consoles : XBOX + PS3 + PC. (Adaptateur à disposition)
Accessibilité facile via Gare Saint-Charles, puis Métro Castellanne + 30 secondes de marche.