Keev remporte le tournoi SoulCalibur 5 de la MLG Winter. Ci-dessous la vidéo de la grande finale.
httpvh://www.youtube.com/watch?v=mkfeJSi90Q8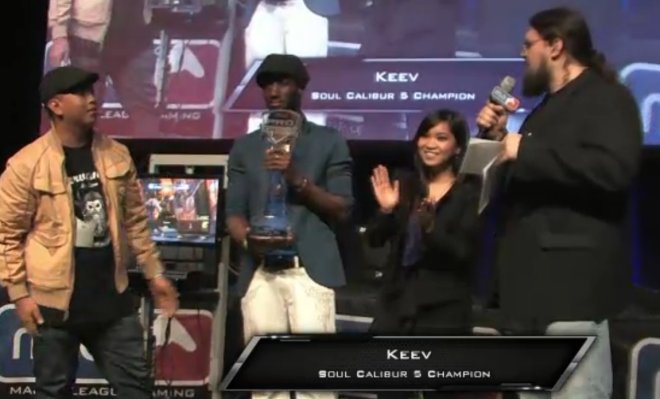 Prologue
La MLG Pro Circuit Winter Championships a débuté hier avec The King of Fighters XIII, et c'est aujourd'hui que commencent Mortal Kombat 9 et SoulCalibur 5. Kayane et Keev participent à ce dernier tournoi. Bonne chance à eux dans la compétition !
Résultats
Un twitter a été mis en place par les organisateurs pour suivre les scores en temps réel : https://twitter.com/#!/MLGFGScores
L'index des galeries photos se trouve ici : http://www.majorleaguegaming.com/competitions/30/photos
[stextbox id= »warning » caption= »Résultats The King of Fighters XIII  » collapsing= »true » collapsed= »false »]
1. IGL.BALA (Billy/Clark/Iori, Billy/Shen/Iori)
2. eLivepro.Mr. KoF (Raiden/Ex Iori/Ex Kyo)
3. vVv.Itz Romanc3 (Saiki/Yuri/Benimaru)
4. Arcade Shock.Reynald (Saiki/Ex Iori/Benimaru)
5. CMD_DUC (Iori/Hwa/Benimaru)
5. Justius (Ex Iori/Shen/Ex Kyo)
7. EG.Justin Wong (Athena/King/Benimaru)
7. Lil Majin
[/stextbox]
[stextbox id= »warning » caption= »Résultats SoulCalibur 5″ collapsing= »true » collapsed= »false »]
1. Keev (Nightmare)
2. RTD ATL (Natsu)
3. Shin Ryujin (Xiba)
4. Something Unique (Maxi)
5. LostProvidence (Misturugi)
5. Wing Zero (Xiba)
7. Kayane (Leixia)
7. ilTokyoli 
[/stextbox]
[stextbox id= »warning » caption= »Résultats Mortal Kombat 9  » collapsing= »true » collapsed= »false »]
1. vVv.CDjr (Johnny Cage, Jax, Smoke)
2. vVv.Reo (Kabal, Johnny Cage)
3. VSM.Maxter (Cyrax, Sektor)
4. Curbolicious (Johnny Cage, Jax)
5. VSM.KT Smith (Smoke)
5. Riu48 (Sonya)
7. KN.CrazyDominican (Kitana)
7.KN.Detroit BallN (Shang Tsung)
[/stextbox]